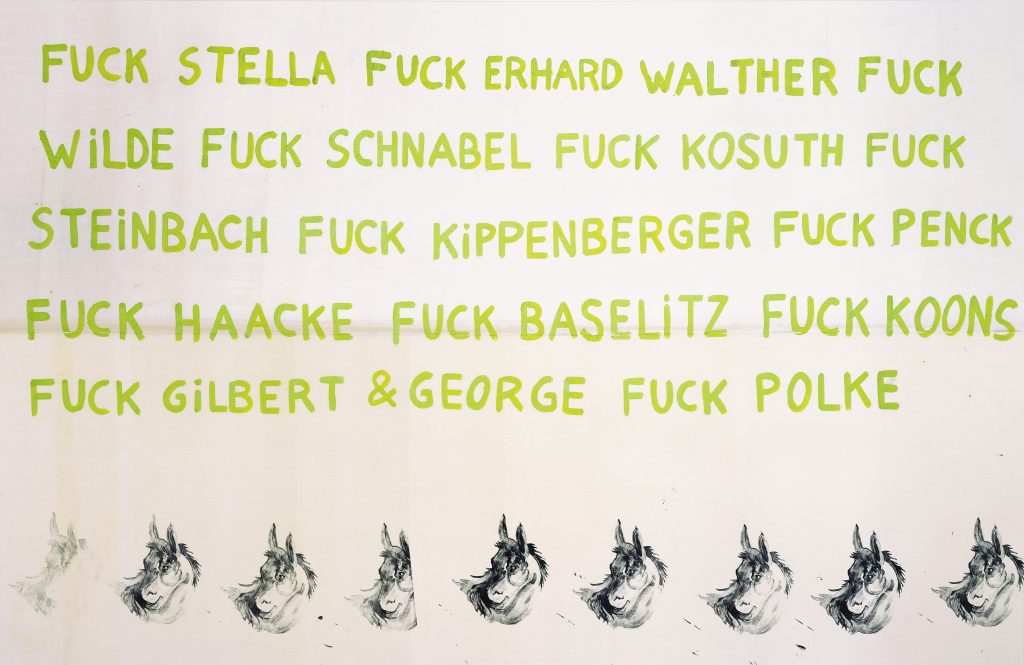 Fuck
curated by Fabian Schöneich
April 29, 2023–March 17, 2024
Open Saturdays 11am–6pm, and by appointment
The Michel Majerus Estate is pleased to present Fuck, a group exhibition curated by Fabian Schöneich. Over its ten-month duration, the presentation will expand from its original constellation, accumulating a diverse slate of works as it progresses.

Fuck takes as its point of departure Michel Majerus' 1992 work on canvas of the same name. In bold green letters, underscored by a repeated, printed image of a donkey, he lists the names of artists who dominated the discourse on contemporary art at the time.

This exhibition explores the complex role of influences or forebearers within artistic production, and questions how one positions themselves in relation to these predecessors when developing their own image-making practice.
Here, works by the artists singled out in Majerus' painting are presented alongside those by others who expand upon visual sampling or appropriation since in the 1980s – methods that also had been central for Majerus. Featured are those who have become key to today's creative discourse, following their rise to prominence in the 1990s in the wake of the giants listed in Fuck. Complementing this grouping are works by a younger generation of artists who take up these tactics, exploring them through a contemporary lens.
Majerus' use of appropriation simultaneously acts as a transgression and pays homage: Fuck takes an ambivalent stance between the two, at once rebelliously rejecting the formal properties of those who established supposed artistic precedent and playfully referencing those very approaches. He made no secret of the impact that the work of others had on his practice. His works and notes alike reveal this, demonstrating how their motifs and themes served as subjects for meticulous study, in turn being repurposed and transformed into unique compositions. This ethos finds its continuation in the works and artists featured.
Fuck opened in late April of 2023 during Gallery Weekend Berlin with an initial iteration that featured Jana Euler, Isa Genzken and Martine Syms. In July this presentation was supplemented with works by Louise Lawler and Pol Taburet. During Berlin Art Week 2023 new works by Avery Singer and Haim Steinbach were added to the show. In November the show was extended with a work by Lauren Halsey.

Between May 2023 and March 2024, Fuck evolves and grows through lectures, talks and film screenings conceived by Fabian Schöneich in collaboration with the Michel Majerus Estate.
Fabian Schöneich is the founding director of CCA Berlin – Center for Contemporary Arts. He was curator of Portikus in Frankfurt and an assistant curator at Kunsthalle Basel and Kunstinstituut Melly (formerly known as Witte de With Center for Contemporary Art) in Rotterdam.
For further information please contact the Michel Majerus Estate: [email protected].

Press inquiries:
[email protected]
Michel Majerus Estate
Knaackstrasse 12
D-10405 Berlin
+49 30 47377300
---
Michel Majerus 2022
Opening twenty years after the death of Michel Majerus (1967-2002), the Germany-wide exhibition series Michel Majerus 2022 was dedicated to various phases and aspects of the artist's extraordinary oeuvre, which has continued to influence generations of artists to follow.
In five solo exhibitions at the KW Institute for Contemporary Art, the Neuer Berliner Kunstverein (n.b.k.), the Kunstverein in Hamburg, the Michel Majerus Estate, and at neugerriemschneider in Berlin, Michel Majerus' oeuvre was honored in all its complexity on an unprecedented scale. Loans from the artist's estate, as well as from public and private collection, offered new insights into Michel Majerus' early work as well as the medial and topical questions posed throughout his body of work.
Parallel to these exhibitions in Berlin and Hamburg, thirteen museums throughout Germany showed works by Michel Majerus from their collections. The Mudam Luxembourg (Musée d'Art Moderne Grand-Duc Jean) also hosted a symposium on Michel Majerus in November 2022 ahead of their exhibition entitled Michel Majerus: Sinnmaschine of his work beginning in march 2023, running until 1 October 2023. Furthermore, the ICA Miami presented Michel Majerus: Progressive Aesthetics, the first US museum survey for the artist.
A comprehensive publication will accompany this unique series of exhibitions.
Check out michelmajerus2022.com for further information.