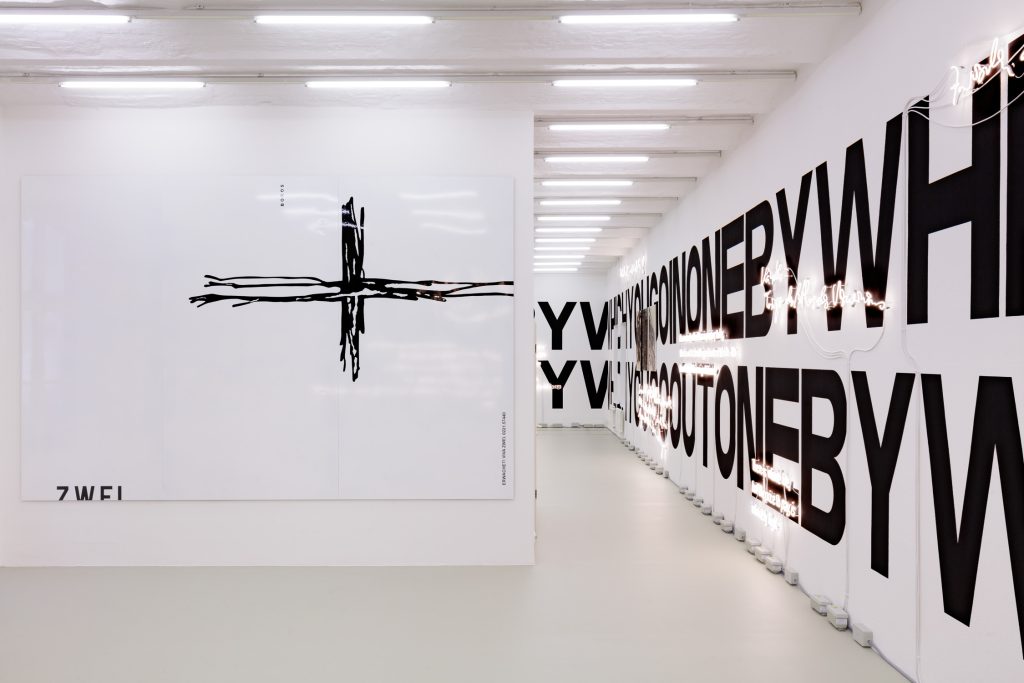 kosuth majerus sonderborg – an installation by Joseph Kosuth
curated by Peter Pakesch
April 28, 2022–March 18, 2023
Open Saturdays 11am–6pm or by appointment
The Michel Majerus Estate is delighted to present kosuth majerus sonderborg – an installation by Joseph Kosuth, an exhibition curated by Peter Pakesch.
Joseph Kosuth (b. 1945), Michel Majerus (1967–2002), K.R.H. Sonderborg (1923–2008): three names, three worlds – decidedly disparate in their approaches, divergent in their reception, and yet closely linked. Majerus began his studies at Kunstakademie Stuttgart in the late 1980s, first as a student in Sonderborg's painting class, and from 1991, under Kosuth. This exhibition showcases works by Michel Majerus together with those of his two professors for the first time, tracing an artistic connection that spans generations.
The history of Modern art, in its efforts to create a unified image and perception of the world, was particularly heterogenous – a heterogeneity that rejected contrarian assertions and consistently provided occasion for intense dispute over ideology and conceptual direction: abstraction versus figurativism, intellectual calculation versus expressive, spontaneous impulse. As the 20th century came to a close, this is what prospective artists were confronted with as they commenced their education.
Competing notions of concept and text versus gesture and spontaneity become one in Michel Majerus' work, drawing parallels to the immediacy of video games. By way of Joseph Kosuth, Majerus came face-to-face with the very source of an artform that set in opposition deep thought and calculation in the context of mapping artistic space, and the impulsive action of gestural painting – one that was celebrated by Sonderborg as a proponent and practitioner of informal painting.
It took Michel Majerus' unique aptitude and exceptional talent to synthesize the practices of Joseph Kosuth and K.R.H. Sonderborg into a vocabulary all his own – one which ushered in the visual sensibilities of the 21st century. This exhibition highlights the tact with which Majerus condenses his professors' contrasting strategies to both foster a new understanding of spatial and conceptual continuity, and simultaneously acknowledge their existing paradigms.
Now more than ever, our top priority is affording you the opportunity to experience art in person. We have implemented a number of measures to keep you safe during your visit and to make for a pleasant, fulfilling gallery-going experience in the face of the ongoing pandemic.
During your visit, please continue to follow the current health and safety regulations.
For further information and image material, please contact the Michel Majerus Estate: [email protected]
Michel Majerus Estate
Knaackstrasse 12
D-10405 Berlin
+49 30 47377300
kosuth majerus sonderborg – an installation by Joseph Kosuth is part of the Germany-wide exhibition series Michel Majerus 2022, dedicated to the artist's generation-defining work and presented to commemorate the 20th anniversary of his passing. In five unique solo exhibitions taking place at the Michel Majerus Estate (April 28, 2022 – March 18, 2023), KW Institute for Contemporary Art (October 22, 2022 – January 15, 2023), neugerriemschneider (November 8, 2022 – January 14, 2023), Kunstverein in Hamburg (November 12, 2022 – February 12, 2023) and Neuer Berliner Kunstverein (December 17, 2022 – February 5, 2023), Michel Majerus' oeuvre is honored on an unprecedented scale. In parallel with these exhibitions, 13 museums throughout Germany present works by Michel Majerus from their collections. 
The exhibition space of the Michel Majerus Estate will remain closed from March 20 until April 29, 2023.