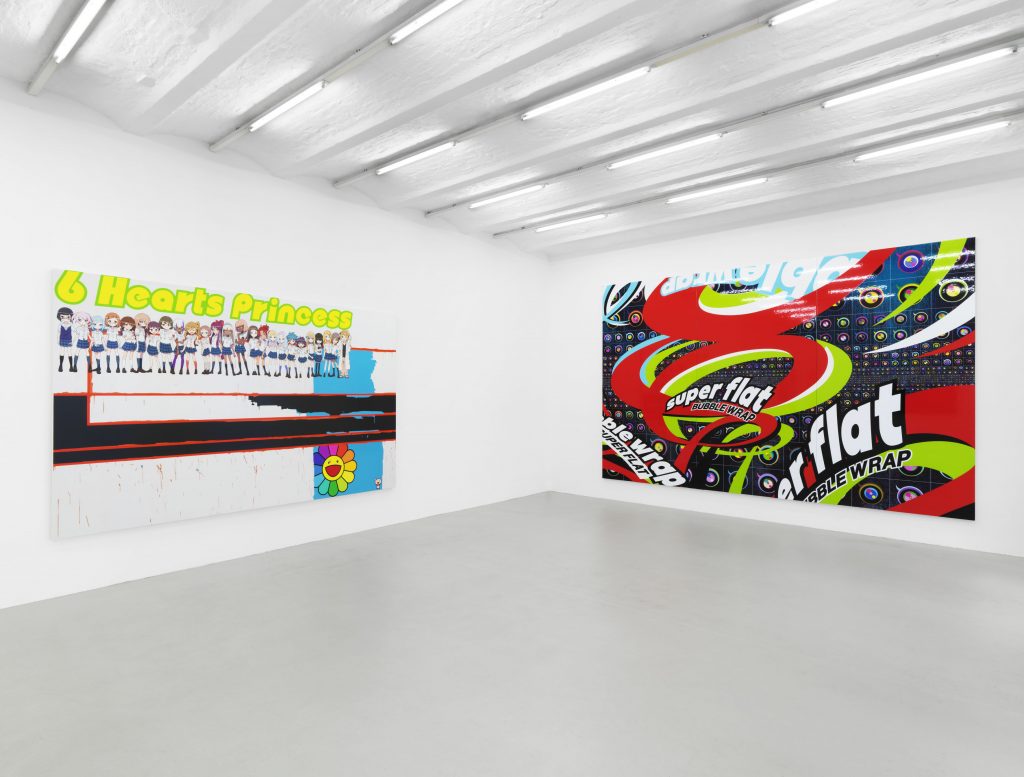 Takashi Murakami: Michel Majerus Superflat
curated by Tobias Berger
September 12, 2020 – February 26, 2022
Open Saturdays 11am – 6pm or by appointment
Special opening hours: Sunday, December 5, 12am – 6pm
The Michel Majerus Estate is delighted to present Takashi Murakami: Michel Majerus Superflat, curated by Tobias Berger. Takashi Murakami (b. 1962) and Michel Majerus (1967–2002) both started exhibiting widely in the mid-1990s and can be considered the first generation of artists who fully embraced the post-analog.
Strongly inspired by Michel Majerus' treatment of street and computer culture, Murakami became interested in Majerus after observing that he was "much more mysterious" than his American counterparts, pushing forward from the "New Painting Movement" of Andy Warhol and Jean-Michel Basquiat. Having only discovered the works of Michel Majerus a few years ago, Takashi Murakami devoted three years to this series, which reveals not only the foresight of Michel Majerus as an artist but also how art, especially art of the Pop and post-Pop periods, is so relevant today. Murakami's works lay bare how these first flirtations with popular culture have anticipated and shaped our contemporary world dominated by brands, slogans, franchised comic characters, Key Opinion Leaders, Internet memes and fake news, in turn shifting viewers' perceptions of the image. Murakami is fascinated by Majerus because he, like Murakami, enjoyed the critical twist in this depiction, the twist that defined German art of the post-war generation, filtering global pop culture in a distinctly distanced way. One can observe this critical distance in Takashi Murakami's works, which grew out of the same postwar generation, albeit on the other side of the world. This distance bred a love-hate relationship with the superficial proposal of pure Pop.
Please find here the video screened in the exhibition "Takashi Murakami in conversation with Tobias Berger".
For the duration of this exhibition we have set up an onlineshop https://shop.michelmajerus.com/
Now more than ever, our top priority is affording you the opportunity to experience art in person. We have implemented a number of measures to keep you safe during your visit and to make for a pleasant, fulfilling gallery-going experience in the face of the ongoing pandemic.
From June 4, 2021, in accordance with the latest public health guidelines, a negative antigen test is no longer required to enter the exhibition. During your visit, please continue to follow the current health and safety regulations.
For further information and image material, please contact the Michel Majerus Estate: [email protected]
Michel Majerus Estate
Knaackstrasse 12
D-10405 Berlin
+49 30 47377300